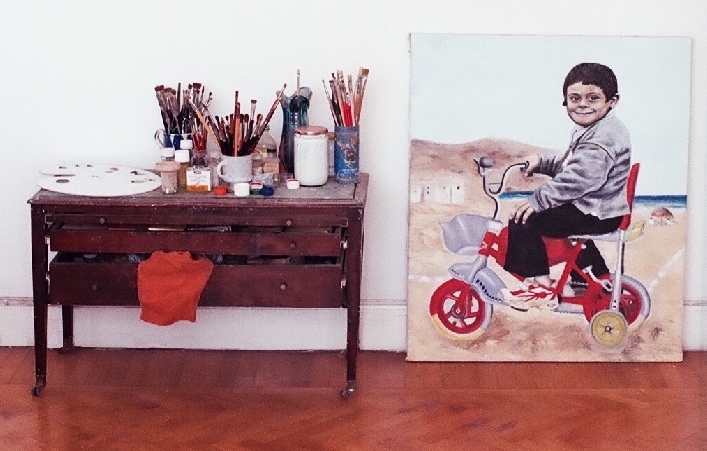 Contemporary Art of Portrait Painting
---
Oil portrait painting is one of the most beautiful types of paintings in modern and contemporary art, and could be the most realistic and difficult one because of the importance of realizing a sharp likeness to the painted figure. Being so difficult gives the artist the feeling of having a big challenge, and that is why maney artists avoide this style of work, and even the art galleries and auction houses do not prefer it! Also generally speaking, I conclude that few in the Arab world of the Middle East are still interested in the art of portrait paintings, weather artists or art collectors. I remember that one day an Egyptian told me "portrait painting is against Islam, because it is a trial to create the soul, and only God creates the soul", I could'nt believe in this theory and I consider portrait painting is simply an artistic style.
Portrait painting and Portrait Comission
Portrait painting is different than portrait commission, in portrait commission the artist is committed to many things, most probably it is not he who would choose the figure, and also he will be committed to finish whithin a certain limit of time. Also he may feel worried about the reaction of the sitter when the portrait gets finished. At the oppesite side, portrait painting without commission gives the artist the complete freedom, liberty and relaxation. It is he who will choose whom to paint, he takes his full time to finish the painting without any interaction from the person being portrayed, which in that case would surely affect his mood, and the artist's mood is very critical in this type of work.
Sometimes I think that painting an oil portrait without a commission would lead to a more artistic oil painting. The issue would only be how to reach a beautiful photography with the approval of the person that will be portrayed, and also take the risk of keeping working in the painting without obtaining any down payment in advance.
If the artist is attracted to the image, he would decide to take the risk, and at the end the portrait painting would be owned by him, this shall be his compensation for accepting to work in the portrait without receiving any money in advance. Because portrait paintings are not very popular in Egypt, as I previously mentioned, I find that working without commission is the best solution for me, or perhaps the only one to keep painting portraits.